Virtual CIO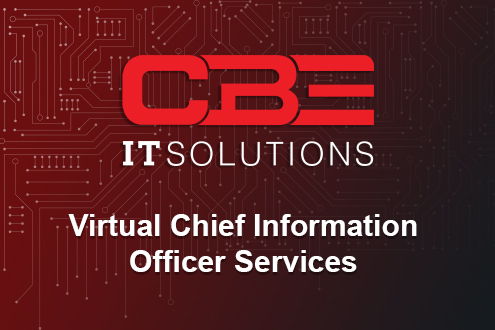 Are you overwhelmed by rapidly evolving technology and struggling to keep your team connected and productive? Discover our virtual Chief Information Officer (vCIO) services.
It can be overwhelming to stay up to date with rapidly evolving technology for your business. As a result, you may struggle to keep your teams connected and productive. at Carolina Business Equipment (CBE), we bring vCIO services to you. Let us show you how flexible vCIO solutions can formulate and manage IT strategies to make your business more efficient, productive, and profitable.
How Our vCIO Benefits Your Business
Leveraging a virtual chief information officer from CBE will bring the digital transformation your business requires to remain competitive. No matter your industry, technology is crucial to run it. Our experts provide trusted technology leadership to maximize your IT investments—from processing payments and remote collaborations to scheduling appointments and sending emails. CBE helps you do what you do better.
Benefits of our virtual CIO services include:
Setting strategic priorities and key IT initiatives
Identifying ROI
Providing processes and methods to drive change
Offering expert input on compliance and regulatory matters
Evaluating current team skills
Managing the day-to-day IT direction
Supporting strategic vendor partnerships
Why Choose CBE?
For more than 45 years, CBE has provided expert business solutions for companies throughout South Carolina. When you choose us, you'll get a relatable team with depth, knowledge, and experience, enabling you to be prepared, stable, and informed.

We believe your business has limitless potential and would love to provide the IT framework and strategies to ensure your success! Ready to get started with our virtual CIO services? Schedule a discovery!
SCHEDULE A DISCOVERY